Sleep and summer; the two CAN co-exsist when you have kids!
Summer is approaching! Woohoo!
But wait, we have kids. 😉
And if your kids are like mine, they turn into hot (literally and figuratively) messes when their sleep routine is off.
So how do we mange to enjoy the summer, but still keep our little one's sleep on track? Can our children's sleep and summer both be enjoyed without sacrificing one for the other?
Why yes, yes they can.
Here are my top summertime sleep tips for families.
Create an Ideal Room Environment
Whether you're traveling on the road or, enjoying a stay-cation, your child's sleep environment can make or break a quality sleep session-especially naps. Since sleep is regulated by the brain, it is the brain that we need to pamper and work *with*, not against.
Therefore, you need to ensure three things are in place…
1) A dark room 
The master clock that regulates our sleep is called the Suprachiasmatic Nucleus which is located behind the optic nerves in the brain as seen in this diagram…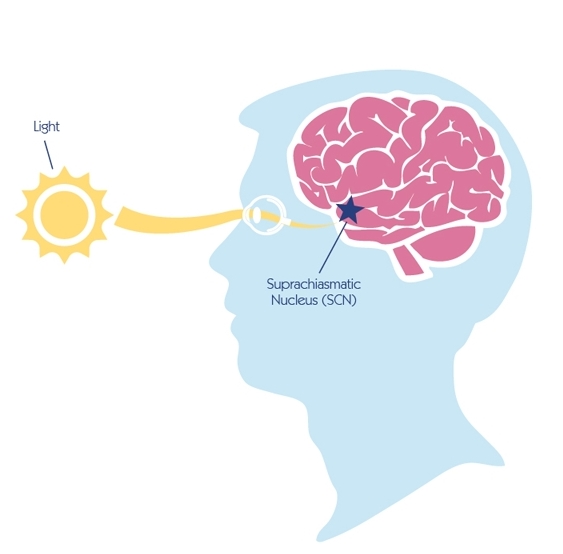 When the brain perceives darkness, it sends signals to your child's brain to release melatonin into the bloodstream. Since melatonin is the hormone that makes your child feel sleepy and helps them fall asleep easily, we want to encourage this as much as possible.
Make your child's sleeping location as dark as you can, especially for nap time so that Mother Nature does the work for you. At home, this is relatively easy to do, but when travelling, you may need to be a tad creative. I always travel with several king sized sheets for exactly this reason. 😉
2) A cool environment 
17-21 degrees Celsius is the recommended room temperature for sleeping. This isn't just for kids, but for moms and dads as well. The cool environment mimics what the body wants to do naturally during the sleep process- lower its core temperature. And again, this helps your child to go to sleep quicker.
3. White noise
The birds are loud first thing in the morning, usually before the sun is even up! Since this corresponds with your child's lightest stages of sleep, using white noise will help to mask this unwanted interruption.
White noise is also wonderful for camping or hotel stays. We
I prefer white noise to music as white noise blends all the sound frequencies together, whereas music does not, leaving the potential for an early wake up.
Plan Travel around Naps
I often get asked the question; "if we have a long day of travel ahead of us, how do we factor naps in"?
First, we need to understand that naps en route are not the same quality as a nap that is in a flat and motionless bassinet, crib or bed.
The brain isn't able to descend into the deep stages of sleep (think of yourself trying to nap during a car ride) and thus produces a more shallow, less restorative or refreshing nap.
However, any sleep is preferable over NO sleep. If your child naps easily while travelling, then you can take advantage of that.
I do recommend to parents to try and leave after the first nap of the day. That way your child can start the day off with a fully restorative nap in their own environment.
If they should take a short second nap (many older babies are too stimulated by all the sights and sounds to nap for long periods), at least they had a good foundation at the beginning.
If they day is exceptionally long, and the naps are exceptionally short, an extra nap may sneak in, or, better yet, plan for an early bedtime to help recoup the lost daytime sleep.
For older toddlers and preschoolers, naps should end by 3pm to ensure that they will easily go down for bedtime.
If the older ones skip their nap entirely, plan for a super early bedtime to avoid a large sleep debt forming.
Encourage Quality Sleep in Different Locations
Whether your child is going to be napping in a hotel, tent or another house during summer vacation; we want them to be able to fall asleep quickly and sleep deeply. How do we do this?
1) Maintain Routine
Regardless of your child's age, the first rule is to maintain a similar daytime napping schedule (as best as you can)(see previous tip) and wind down routine. By doing this, not only does it help your child to fall asleep quicker in the new location, but it also puts the biochemical reactions in motion and cues your child's body that it's time to sleep.
2) Recreate Home 
This isn't the time to be creative, unless you like gambling with sleep. 😉 Bring your child's lovey, white noise, night light-whatever they use at home, you should take on the road. It's also helpful to use the same sheets and pajamas without washing them, so they have the familiar scents of home.
3) Give Them Time
Don't just plop your toddler in a new Pack and Play and expect them to go to sleep. Give your child time to get acclimatized in the new location *before* you put them down to sleep. They will want to explore it, so let them! This allows the novelty to wear off, gives them play time without the stress of hoping they will fall asleep and allows you to troubleshoot while they do so.
Manage Bedtime During Summer Events
There are a few different options if you have an event that runs later into the evening. You can choose whatever feels right for your family.
1) Hire A Babysitter
This option is best for children that are already sleep trained and familiar with the babysitter. If your child doesn't know the babysitter, then to ensure success (and less stress for you!), have the new caregiver do a few trial runs with you present in the days or weeks leading up to the event.
Want your child to sleep through the night before you head out for vacation? Download the FREE sleep guide; Help Your Child Sleep Through The Night
2) Half and Half
In this situation, everyone attends the event and then one parent leaves and takes the child home at bedtime. You can also then hire a babysitter to watch your kiddo once they are asleep and return to the event, or, that parent stays home for the rest of the evening.
3) Move Nap
If your child can handle it, you can move their nap a touch later in the day. Most kids need a short morning wake period, and if we move the morning nap too late, it will backfire and result in a super short nap.
So if your little one is on a two nap schedule, I recommend leaving the morning nap where it is, but pushing nap two out a little later in the afternoon. If they are down to a one nap routine, then this is the one you would move later.
Don't do anything too drastic because again, it can result in a shorter nap, so stick around the fifteen to thirty minute mark.
When we move this nap later, the hope is that your child will still nap for their regular amount, but it now ends later in the afternoon. This will give you more breathing room for a slightly later bedtime, without making them overtired.
4) Put Them To Sleep at the Event
This is a wonderful option if you are at someone's house, but would like to stay later without compromising your child's sleep.
In this scenario, you would bring your child's Pack and Play, lovey, white noise, etc., and put them to sleep in a quiet room in the house at bedtime. Do a regular bedtime routine at this new location-don't panic or feel you need to extend it-just get them down at their regular bedtime.
When it's time to transfer them to the car, keep all the lights off so the daytime hormones don't start to interfere with things.
Once home, do the same thing; keep the house dark and get them into their crib or bed. Should they happen to wake up during the transfer, treat it like it's a night waking at two in the morning and do a brief soothing session to help them go back down quickly and easily.
5) Later Bedtime
I'll admit it, this isn't my favourite option, but it *is* an option. 😉 If your child is an independent sleeper, already on a great routine, doesn't have a sleep debt, then moving bedtime later once in awhile can likely won't create chaos. It allows everyone to enjoy the summer nights without having to sacrifice family time or anyone's participation.
If your child has a sensitive sleep temperament though, expect a few night wakings for up to three nights after. To help counter this, do a slightly earlier bedtime the next night or two.
Sleep and summer can go hand-in-hand. While it may not always be perfect, it doesn't have to be a disaster, either. With a little planning and following the tips above, you can help to ensure that everyone has fun, but stays well-rested too.
Need help getting your child on a better sleep routine? Join and like the Baby Sleep 101 Facebook page and download your free sleep guide here.